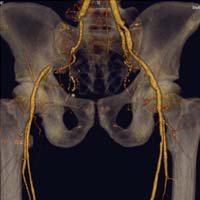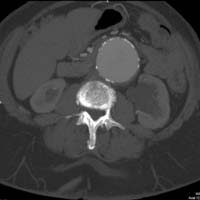 Our Hands-On PV-CTA Course
Hands-on course taught by Dr. Tony DeFrance and Dr. Peter Fail. Learn our systematic review methodology for peripheral vascular CTA in this 50 hour course. Your training will include 2 hours of online didactic lectures that can be completed at your own pace before coming to the course, minimizing your time out of the clinic. Travel to one of our training sites for a one day hands-on workstation training session. During this onsite session, you will review a wide variety of peripheral vascular pathology.
Following your hands-on training, you can complete as many as 125 additional cases using our specialized interactive training software. In total, you will review in excess of 150 cases of carotid (25%), Abdominal (20%) Pre and Post EVAR (10%) Renals and Mesenterics (10%) and Run-off (35%). Each student will have their own workstation and earn 50 CMEs.
ACC Guidelines
The ACC guidelines require 50 mentored and 100 unmentored cases. This program exceeds the standards for peripheral vascular CTA competency issued by the ACC by mentoring to 150 cases.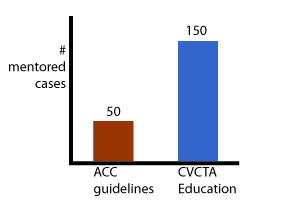 Advantages to PV-CTA Training
Many clinicians have found training in PVD to be an important and cost-effective endeavor. There are numerous benefits for your patients and for your clinical practice. For more information about becoming certified to perform and read PVCTA cases, please read this article by Dr. DeFrance.

Course Highlights
Didactic Topics for Carotids, Thoracic, Abdominal, Runoff studies
Extensive review of anatomy, clinical indications, diagnostic modalities, treatment, acquisition, case examples, CTA in planning vascular procedures, workstation buttonology, systematic review method for each area, & reporting


Hands-on training
Interactive Software Training System (PV-CTA Mentor Program)

Individualized Mentoring program
Minimize time away from your practice
Large library of PVD cases with diverse pathology with the option of reviewing more cases if desired
To view a short narrated video of how the PV-CTA Mentor Program functions:

PV-CTA MENTOR PROGRAM IN ACTION

Note: Video requires JavaScript to be enabled and the latest version of the Macromedia Flash Player. If you are you using a browser with JavaScript disabled please enable it now. Otherwise, please update your version of the free Flash Player by downloading here.

Location
Date
Lecturer(s)
Registration

please call or email info@cvcta.com