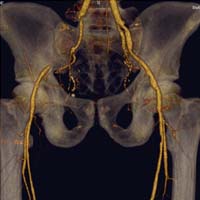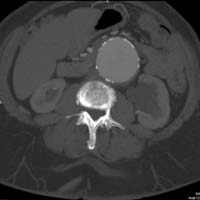 Our Hands-On PVD Course
Learn our systematic review methodology for peripheral vascular CTA in this 20 hour course. Your training will include 6 hours of online didactic lectures that can be completed at your own pace before coming to the course, minimizing your time out of the clinic. Travel to one of our training sites in NYC, SF or Houston for an 8-hour hands-on workstation training session. During this onsite session you will review a wide variety of peripheral vascular pathology as well as observe live case acquisition. Following your hands-on training, you can complete as many as 50 additional cases using our specialized interactive training software.

In total, you will review in excess of 100 cases of carotid (25), Abdominal (20) Pre and Post EVAR (10) Renals and Mesenterics (10) and Run-off (45). This program is designed to exceed the standards for peripheral vascular CTA competency that will be issued by the ACC.
Course Highlights
Didactic Topics for Carotids, Thoracic, Abdominal, Runoff studies
Extensive review of anatomy, clinical indications, diagnostic modalities, treatment, acquisition, case examples, CTA in planning vascular procedures, workstation buttonology, systematic review method for each area, & reporting


Hands-on training

One physician per workstation
Systematized reading approach that helps improve clinical accuracy and reduce reading time
Observe and participate in live PVD cases to learn the protocols



Interactive Software Training System (CTA Mentor Program)

Individualized Mentoring program
Minimize time away from your practice
Large library of PVD cases with diverse pathology with the option of reviewing more cases if desired
To view a short narrated video of how the CTA Mentor Program functions (requires Windows Media Player 11):


CTA MENTOR PROGRAM IN ACTION



San Francisco, CA

Lecturer

Registration

Sept 20

Thurs

Vital Images

DeFrance

please call

Sept 29

Sat

Vital Images

DeFrance

please call

Oct 4

Thurs

Vital Images

DeFrance

please call

Nov 8

Thurs

Vital Images

DeFrance

please call

Dec 16

Sun

Vital Images

DeFrance

please call

Houston, TX

Lecturer

Registration

Sept 16
Sun
Vital Images
Fail


please call

New York, NY

Lecturer

Registration

Dec 4
Tues
Vital Images
DeFrance


please call
To Register
Please call us at 1.800.728.2884

Not Certified in CTA?
Get your Cardiac & Periperal CT Training in only 4 days at our site
All PVD classes are one day following a 3-day Cardiac CT class. Therefore, if you are not certified in CTA, you can spend 4 days at our clinic to get trained in Cardiac and Peripheral CT.

CTA Mentor self-study software requires access to a workstation. You may choose to remain at our training center after the live portion of the course to use one of our workstations to complete your training. Workstations are also available for lease for home/clinic training purposes.

THE FACTS

1 day of hands-on workstation training & 3 days of inter- active self-study software



Earn 40 CMEs



Didactics are completed online before coming to the training center, minimizing your
time out of the clinic



Prerequisite: Level 2 Cardiac training

Tuition: $3,000